Pick Up Services
Regular Pickup
A pickup can be scheduled from either of the locations while checking out.
Freight Pickup (Pallet)
Upon request, we can prepare your order on pallet(s) and provide pallet dimensions and weight.
The request can be made in the pickup notes while checking out.
When using a third-party freight company, we recommend getting insurance in case of any damages during transport.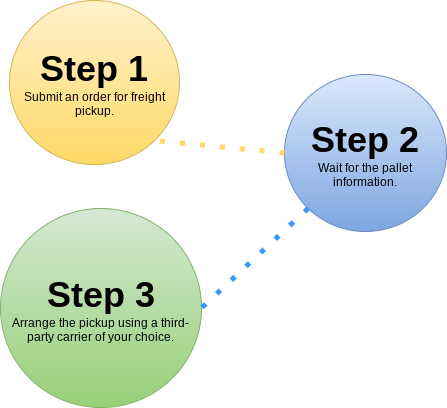 For pickup lead times, please refer to the shopping cart. Walk-in pickups are not guaranteed.
Scarborough
647 499 6656


| | | |
| --- | --- | --- |
| Tue | Mar 21 | 8:00 am - 5:00 pm |
| Wed | Mar 22 | 8:00 am - 5:00 pm |
| Thu | Mar 23 | 8:00 am - 5:00 pm |
| Fri | Mar 24 | 8:00 am - 5:00 pm |
| Sat | Mar 25 | Closed |
| Sun | Mar 26 | Closed |
| Mon | Mar 27 | 8:00 am - 5:00 pm |
| Tue | Mar 28 | 8:00 am - 5:00 pm |
| Wed | Mar 29 | 8:00 am - 5:00 pm |
| Thu | Mar 30 | 8:00 am - 5:00 pm |
| Fri | Mar 31 | 8:00 am - 5:00 pm |

Etobicoke
647 499 6656


| | | |
| --- | --- | --- |
| Tue | Mar 21 | 8:00 am - 5:00 pm |
| Wed | Mar 22 | 8:00 am - 5:00 pm |
| Thu | Mar 23 | 8:00 am - 5:00 pm |
| Fri | Mar 24 | 8:00 am - 5:00 pm |
| Mon | Mar 27 | 8:00 am - 5:00 pm |
| Tue | Mar 28 | 8:00 am - 5:00 pm |
| Wed | Mar 29 | 8:00 am - 5:00 pm |
| Thu | Mar 30 | 8:00 am - 5:00 pm |
| Fri | Mar 31 | 8:00 am - 5:00 pm |
Links
Delivery details
Freight shipping